40th Reunion – June 8-11, 2017
Registration has begun!
Download our brochure with ALL the details Here.
Location
Our reunion committee is working on lots of special plans for reunion! We are staying in William Keeton House on West Campus.

Get ready to return to the Hill!
Come back to Cornell. Come to our 40th Reunion, June 8–11! Come stretch your mind and your imagination. Relive wonderful memories and create new ones.
Take advantage of the best Cornell has to offer: lectures, tours, music, and so much more. Will your intellect be challenged? Without a doubt! Will you see old friends and make new ones? You know you will! Will you be glad you came? Absolutely!
Opportunities to connect with classmates at our headquarters at Keeton House, class-specific events, and meals.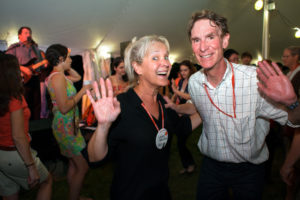 Look forward to Reunion favorites and our special class events:
Thursday night nostalgic welcome dinner catered by the Hot Truck.
Friday reception on Willard Straight Terrace featuring our Class of '77 all-star musical review followed by a buffet dinner at Okenshields
Optional Saturday BBQ lunch at Beebe Beach ($30.00 per person)  followed by a not-to-be-missed presentation by our classmate, Bill Nye at Bailey Hall.
Saturday reception at the Big Red Barn, our class picture, and dinner at the Physical Sciences Building overlooking the Arts Quad, with a performance by After Eight.
A wonderful farewell brunch where we'll make plans to meet again in 2022 for our 45th
Plus highlights throughout the weekend like the Chorus and Glee Club Concert, Cornelliana Night, the Arts Quad Tents, and more
To register and see a complete list of offerings, go to alumni.cornell.edu/reunion. You can also check out our Cornell Class of '77 Facebook Page, to find out who's coming, and what will be happening.
Everyone is welcome. Come alone or bring the kids and grandchildren. We've packaged this year's Reunion to be as affordable as possible. If you register by May 10, you can take advantage of our early-bird rate.
Ready to make travel arrangements?
Wonderful! Residence halls open at noon on Thursday and check-out is noon on Sunday. We'll offer a range of pricing options, including full weekend, Friday/Saturday only, etc. Full details are available in the brochure.
Definitely not going to make it?
Please let us know so we can save trees and money by removing your name from the registration mailing list: Visit alumni.cornell.edu/reunion or call us at 607-254-7013.
Questions?
Contact Reunion Chairs:
Cara Kagan '77 at clk816@aol.com
Geoffrey Gailey '77 at geoff.gailey@midwest-fertilizer.com
Halsey Knapp '77 at hknapp@khlawfirm.com
Karen Wellin '77 at jdwellin@verizon.net
Contact Registration Chair:
Donna Copley '77 at cornell77reunion@gmail.com
After registering online, you should receive a confirmation email that provides you with the class events you are registered for. If you do not receive an email, please check your spam folder.  Review your schedule to ensure you have all the events you want.  Make sure that your housing information for staying on campus is correct, how many nights and room and suite mate  preferences.
Registration FAQs
What does the registration fee include?
Our Class of '77 package includes class receptions and meals, tent parties, class shuttles, headquarters refreshments, souvenirs (adult only) , and most university events. You'll receive a button on a lanyard to wear during the weekend that gives you access to everything.
What is NOT included?
The university Kids Club (formerly the Youth Program), some athletic events, concerts, and the optional events (Saturday Lunch) listed on your registration form.
How do I register for the optional lunch?
During registration choose the optional lunch from the dropdown menu that says "please select", it will add the additional $30 for the lunch to the cost of your registration.

What if I register and then can't come?
We are happy to offer refunds if you cancel before May 25.
Can I register when I get there?
Yes, you can—but there are many advantages to registering in advance, including lower fees (by May 10), expedited check-in, better chance of getting a room assignment near friends, and more.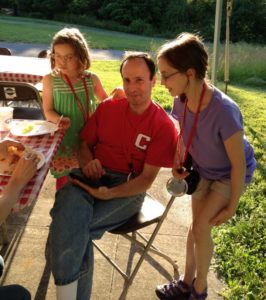 Families Welcome
Bring your family and your spouse; reunion is fun for everyone. The University will have events and activities planned for all ages.
What should I wear? What will the weather be like?
There really is no dress code. Please dress comfortably and it is up to you if you want to wear something a little dressier for the evening dinners. The weather in Ithaca hasn't changed, it's as unpredictable as it always was! Dress in layers and bring an umbrella and we're hoping it's a beautiful sunny weekend.
Housing FAQs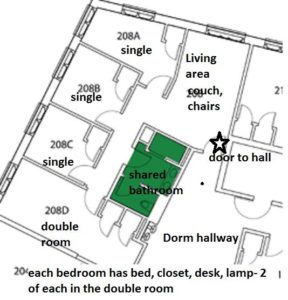 What do the suites in Keeton Hall look like?
The drawing to the left shows the layout. In each suite there is one double room (with 2 twin beds), three single rooms, a living area and shared bathroom. Up to 5 people can be placed in one suite.
What's included in the room fee?
The university provides bath towels, bed linens, and a daily towel exchange. You'll want to bring your own hair dryer and iron. And, please remember that our residence halls do not have air-conditioning in the guest rooms. Bring your own fan in case of warm weather. There is no charge for children who do not need a bed (sleep in porta-crib, on the floor, etc.) and stay in a parent's room.
Do singles cost more than doubles?
No! Singles are the same price as doubles. The suites have 3 singles and 1 double (with 2 twin beds) so we have lots more singles than doubles.  When you request to be with other people most likely you'll be clustered together in a suite.
When is check in/check out?
Check-in begins Thursday at noon and all classmates must check out by noon Sunday.
Can I smoke in the residence halls or bring my pet?
No, you may not smoke, and only service animals are welcome.
Can I get a room near my friends?
The Class of '77 has been assigned housing at William T. Keeton House. Because Undergraduate residences are designed for single students, only twin-size beds are available. A single room has a twin bed, and a double room has two twin beds. The suites include 1 double (2 twin beds) and 3 singles.  The cutoff date for suite and roommate requests is May 20. For questions contact  Registration Chair: Donna Copley '77 at cornell77reunion@gmail.com.
I have special medical or mobility needs—is it practical for me to stay in the residence halls?
Yes! To communicate specific medical or mobility needs, please contact your class registration chair as soon as possible.
Does our class have a block of rooms at a hotel?
Prefer to stay in a local hotel room? A limited number of rooms has been blocked for Alumni returning to Ithaca. Review hotel information on the Cornell Reunion website, and call your favorite hotel directly for a reservation on a first-come, first served basis.
Kids and Spouses are Welcome!
There are lots of things for kids to do! Here is the information page at the Cornell website. Spouses will enjoy the lectures, sports events, dinners and concerts as much as you do!
Download the flyer about Kid's Club here.
Make a Gift in Honor of our 40th Reunion Campaign
Our goal is to have every classmate make a gift to Cornell as part of our Reunion campaign. Although we do hope you'll choose to designate all or part of your gift to one of the Annual Funds, each gift to Cornell, regardless of the amount or designation, counts in our class totals and helps support today's Cornellians. You can make your gift by visiting giving.cornell.edu/give or by calling 1-800-279-3099. Please make your gift today since we plan to announce our class totals during Reunion Weekend and we want to make sure to include your gift.
Nostalgia
Class of '77 Music
We already have several guitar players, a bass player and male vocalists (including Cayuga's Waiters veterans). We still need percussion and female vocalists or anything else you want to play! If you've always wanted to be a rock star, contact Geoff Gailey geoff.gailey@midwest-fertilizer.com (and come to rehearse/jam a little on Thursday night). Come on Friday night to enjoy music from our years at Cornell and sing along with the band.
Photos and more!
Photos from Class of '77 past reunions can be found on the Photos page! Take a look at the Timeline to remind yourself about the highlights, milestones and memories from our years at Cornell.
Personal Profile
Whether you are coming to reunion or not, take the time to update your classmates about what you've been doing by filling out this Questionnaire. Catch up with classmates and old friends on our Profiles page.
Reunion Events
Throughout the weekend, university-sponsored events, athletics and other recreational activities including canoeing, gorge zip line, as well as seminars and exhibits, are happening. Visit alumni.cornell.edu/reunion to view events, plan your itinerary, and to register for events, if necessary. 
Class of '77 Specific Events
Thursday, June 8th
Noon
Check-In: Class of '77 (Continues through Saturday) William Keeton House, West Campus
5:30 p.m. –  p.m. Class of '77 Hot Truck Welcome Dinner: Class of '77 William Keeton House
8:00 p.m. Cornell Dairy Ice Cream Spree: Class of '77 William Keeton House and Courtyard Tent
Friday, June 9th
7:30 a.m.- 9:30 a.m. Breakfast: Class of '77 William Keeton House
1:30–2:30 p.m. University Service of Remembrance and Thanksgiving, Sage Chapel, recognizing 128 class of '77 members as well as the other reunion classes.
6:00–7:00 p.m. Reception: Class of '77, Willard Straight Hall Terrace Enjoy our all-star musical revue featuring classmates performing popular music from the '60s and '70s.
7:30 p.m. Dinner: Class of '77, Okenshields, Willard Straight Hall With a special guest
9:00 p.m.–1:00 a.m. Tent Parties, Arts Quad With Little Joe and the Big Shots, Brownskin Band, and the Stock Market Swing Orchestra
10:00 p.m. until late Hang Out: Class of '77, William Keeton House and courtyard tent
Saturday, June 10th
7:30–9:30 a.m. Breakfast for the Class of '77, William Keeton House
Noon–2:00 p.m. BBQ Lunch: Class of '77, Beebe Beach Optional, ($30.00)
5:30–6:30 p.m. Reception: Class of '77, Big Red Barn With a class picture at the Physical Sciences Building
6:30–9:00 p.m. Dinner: Class of '77, Physical Sciences Building With a class meeting and a performance by After Eight
9:00 p.m.–1:00 a.m. Tent Parties, Arts Quad With the Destination, Brownskin Band, and Karaoke Joe
10:00 p.m. until late Hang Out: Class of '77, William Keeton House
Sunday, June 11th
7:30 a.m. – 10 a.m. Farewell Brunch: Class of '77 William Keeton House
Noon Check-Out: Class of '77 William Keeton House, West Campus
Special Group Events
Kappa Delta Centennial
Kappa Delta sorority is celebrating their centennial during Reunion Weekend. They are hosting a Saturday Luncheon, as well as a special block of rooms in Cascadilla with a lounge for KDs to gather during the weekend.
Alumni will register through Class or Non-Reunion Year for housing, and will need to register for the luncheon in order to attend as it is not included in the overall Reunion registration.
Kappa Delta Centennial Information and FAQs 
We wanted to give you some information regarding questions that may arise about housing and lunch fees.
Housing:  Classmates who want to register with their Class but be housed in Cascadilla with their KD friends.
If a classmate is registering with their class and would like to stay in the KD block in Cascadilla:
The classmate will note "Kappa Delta in the Cascadilla block" in the "location preferences" field in the housing section of the registration form.
On

May 1

and on

May 15

, Chuck Lyons in Conference Services, will review housing reports and will load the room rosters into each class registration system. He will include a number of Cascadilla rooms in your housing inventory based on the report listing KD in the housing preference field.
The class registration chair will then make housing pre-assignments, assigning the Cascadilla rooms to the Kappa Delta sisters.
Classmates will go to their class headquarters to check-in, and will need to go to the Sheldon Court Non-Reunion Year (NRY) headquarters to pick up their keys.
There is no need to make special arrangements for the accounting.  The housing payment, along with the class registration fee will be deposited into the class reunion account, and conference services will charge this same account for the Cascadilla rooms assigned to each class.
Lunch Fees: The Kappa Delta lunch on Saturday conflicts with several class lunches. Please note that a KD registered for both class and KD Lunch MAY request a refund for their Saturday Class lunch.
Questions: Registration chairs should contact their Class and Reunion Programs officer with questions.