40th Reunion – June 8-11, 2017
Location
Our reunion committee is working on lots of special plans for reunion! We are staying in air-conditioned William Keeton House on West Campus.

Get ready to return to the Hill!
Look forward to Reunion favorites and our special class events:
Thursday night nostalgic Hot Truck dinner
Friday evening reception on Willard Straight Terrace, with classmates performing hits from the '60s and '70s (vocalists, percussionists, and other instrumentalists are still welcome)
Optional Saturday BBQ lunch at Beebe Beach followed by a presentation by our classmate Bill Nye at Bailey Hall
Saturday evening reception at the Big Red Barn and dinner at the Physical Sciences Building overlooking the Arts Quad
Sunday farewell brunch and a look ahead to our 45th Reunion in 2022
Plus highlights throughout the weekend like the Chorus and Glee Club Concert, Cornelliana Night, the Arts Quad Tents, and more
Ready to make travel arrangements?
Wonderful! Residence halls open at noon on Thursday and check-out is noon on Sunday. We'll offer a range of pricing options, including full weekend, Friday/Saturday only, etc. Full details will come in late March when we send out registration information.
Definitely not going to make it?
Please let us know so we can save trees and money by removing your name from the registration mailing list: Visit alumni.cornell.edu/reunion or call us at 607-254-7013.
Questions?
Contact Reunion Chairs:
Cara Kagan '77 at clk816@aol.com
Geoffrey Gailey '77 at geoff.gailey@midwest-fertilizer.com
Halsey Knapp '77 at hknapp@khlawfirm.com
Karen Wellin '77 at jdwellin@verizon.net
Contact Registration Chair:
Donna Copley '77 at cornell77reunion@gmail.com
Class of '77 Music
We already have several guitar players, a bass player and male vocalists (including Cayuga's Waiters veterans). We still need percussion and female vocalists or anything else you want to play! If you've always wanted to be a rock star, contact Geoff Gailey geoff.gailey@midwest-fertilizer.com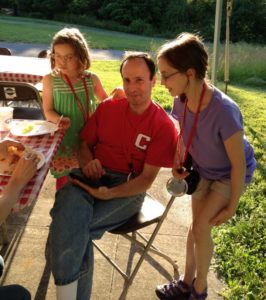 Families Welcome
Bring your family and your spouse; reunion is fun for everyone. The University will have events and activities planned for all ages.
Hotels
Hotel Information is up on the Cornell Reunion webpages. Make hotel reservations now, dorm reservations (in the William Keeton House) can be made in March.
Nostalgia
Photos from Class of '77 past reunions can be found on this website and college specific plans can be found on the Cornell Alumni pages about Reunion.