Timeline – Milestones and Memories from our 4 years on The Hill
Send additions, corrections and photos to cu77alumni@gmail.com
1973-1974 Freshman Year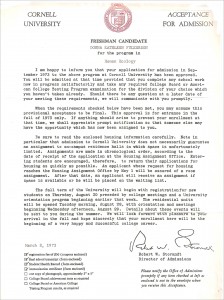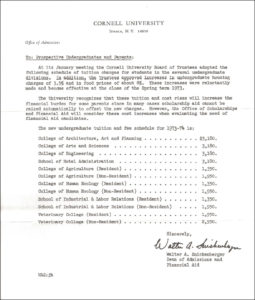 3/8/1973 We received a letter like this with our Admission to Cornell University and sometime before May 1st we committed to attending in the fall. – letter from Donna Fulkerson LaVallee, '77 archives
And a notice about the increase in tuition for 1973-74! – Kathy Brammell, '77 Archives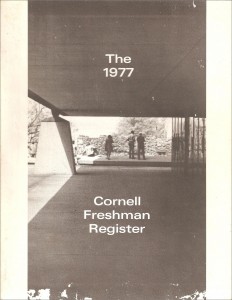 1977 "Facebook" The Cornell Freshman Register – The register included a head shot from any freshman who wanted to send one in, your home address, your high school, your college and
your height!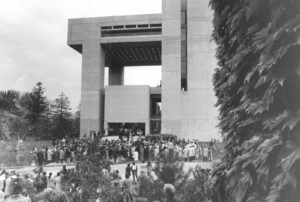 05/23/1973 – Herbert F. Johnson Museum of Art opens
The Herbert F. Johnson Museum of Art is dedicated. The museum, designed by architect I.M. Pei, was built on the site where Ezra Cornell is said to have stood when he announced the intention to found a university. The museum is named for Herbert F. Johnson '22, former CEO of S.C. Johnson & Son Inc. and a lifelong enthusiast of art and architecture. A long-awaited wing – part of Pei's original design – that added 16,000 square feet of gallery and office space opened in 2011.
from Cornell Chronicle
08/29/1973 Move in Day – 700 Students Lack Dorm Rooms
"Lounges, basements and assorted cubby holes around campus were filled yesterday with over 260 freshmen, some may be there till December."
– Cornell Daily Sun
We stood in lines in Barton Hall to Register

9/5/1973 David Crosby-Graham Nash concert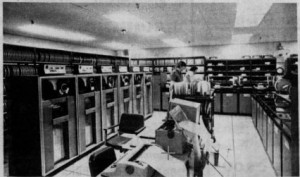 09/5/1973 Computer at Work – Cornell's IBM 360 Model 65 at Langmuir Laboratory. Cornell's computer facility consists of six walk-in terminals located around campus, with the actual computer at Langmuir Laboratory, near the Tompkins County Airport. – Cornell Daily Sun
9/22/1973  Henry Kissinger becomes Secretary of State.
10/19/1973 Paul Simon Concert at Cornell
10/6/1973  President Sadat launches a war against Israel. He is joined by Hafez al-Assad's Syria and by King Faisal of Saudi Arabia, with the latter expected to contribute money rather than soldiers. A surprise attack is launched against Israeli forces in Israeli-occupiked Golan Heights and the Sinai Peninsula. Jordan has not joined the war against Israel.
10/10/1973  Spiro T. Agnew resigns as Vice President of the United States and in federal court pleads no contest to charges of income tax evasion.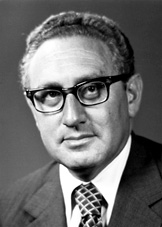 10/17/1973  Secretary of State Kissinger and Le Duc Tho are jointly awarded the Nobel Peace Prize. Le Duc Tho refuses the award. Henry Kissinger says the award amounts to recognition of "the central purpose of President Nixon's foreign policy – achievement of a lasting peace."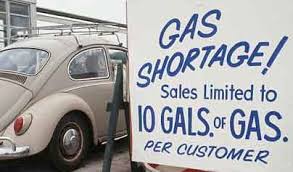 10/17/1973 An Arab oil embargo against countries that support Israel triggers an energy crisis. Ten Arab member-nations of the Organization of Petroleum Exporting Countries announce they will cut oil production until Israel withdraws from Arab territory captured during the 1967 Six-Day War and the rights of the Palestinian people are "restored." The embargo will not be lifted completely until March 1974.
10/20/1973  President Nixon orders Attorney General Elliot Richardson to dismiss Watergate Special Prosecutor Archibald Cox. Richardson refuses and resigns. So does Deputy Attorney General William Ruckelshaus. Solicitor General Robert Bork, third in line at the United States Department of Justice, doesn't follow suit. He becomes acting Attorney General and fires Cox.
11/1/1973  Acting Attorney General Robert Bork appoints Leon Jaworski as the new Watergate Special Prosecutor.
11/5/1973 Sly and the Family Stone Concert at Cornell
11/12/1973 N.Y. Speed Limit Decreased to 50 mph due to the Gas Shortage

75th anniversary of Sage Chapel choir
directed by Professor Donald R.M. Paterson in the fall, Maurice Stith in the spring
 25th anniversary of Cayuga's Waiters
Sports Victories 1973-74
Gymnastics and Riflery teams were 1st in the Ivy League
Lacrosse was 2nd in the Ivy League
Reaction on Campus to National and World Events
"Standing room only crowds in the Straight's television room at news time". (Page 197 in the yearbook)
Campus demonstrations:  (page 198 in the yearbook)
Fall '73 Reaction to the military coup in Chile.
Picketing at career center when the Gulf Oil corporation came to Cornell
Impeachment rally after Nixon's "Midnight massacre" of former Watergate prosecutor Archibald Cox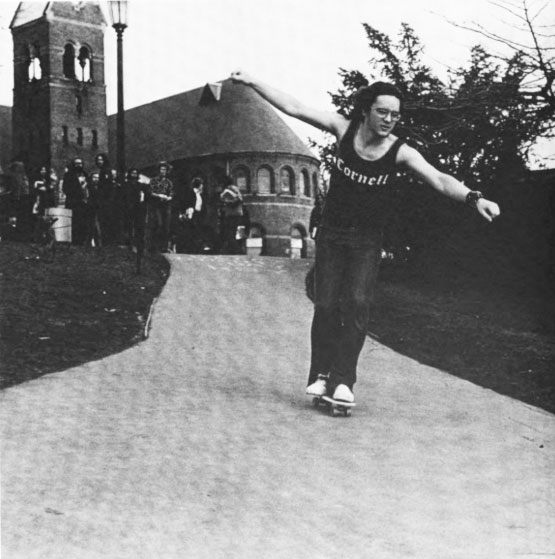 Skateboarding – In 1972 skateboard wheels made of polyurethane made by Cadillac Wheels were introduced. Prior to this new material, skateboards wheels were metal or "clay" wheels. The improvement in traction and performance was so immense that the popularity of skateboarding started to rise rapidly on college campuses.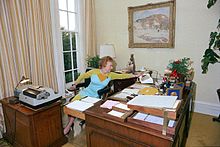 12/7/1973  The White House cannot explain an 18-minute gap in one of the subpoenaed tapes. Rose Mary Woods demonstrates how it might have happened.
12/15/1973  The American Psychiatric Association removes homosexuality from its list of mental disorders.
December 1973 Noyes Center Food Fight
12/23/1973  OPEC doubles the price of crude oil.
12/28/1973  The US Congress passes the Endangered Species Act.
12/31/1973 Top music singles of 1973


from http://ultimateclassicrock.com
IFC Speakers committee (1973-74):
Ramsey Clark
George McGovern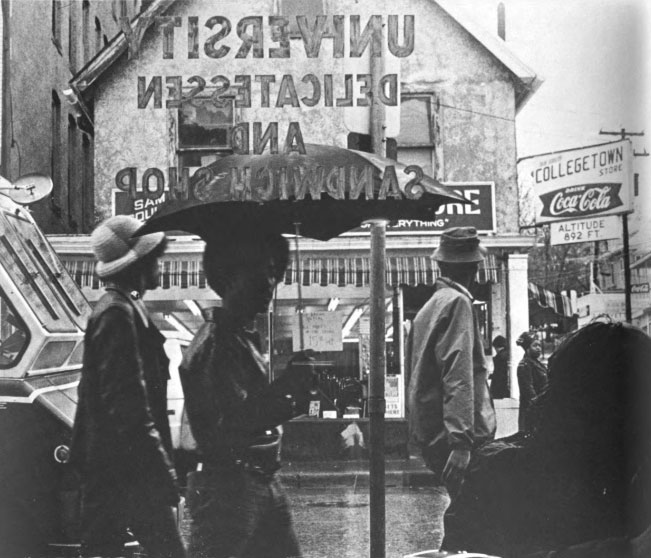 Ithaca shops sponsoring the yearbook in 1973:
Euphoria
Home Dairy
Egan's Supermarket
Midtown records and tapes
Stone travel agency
Elba Italian kitchen
Rothchild's department store
Schooley's jewelry
Hal's delicatessen
Stevens studios
Stellar stereo
Arnold Printing Corp
First National Bank and Trust
The Cornell Department of Dining Services
Holley's Fashion Center
Lafayette Radio Electronics
The Taylor Wine Company
Triangle Book Shop
Johnny's Big Red Grill
Old No 9
Cornell Campus Store
Marque III – Top of the Ladder
Fontana's Shoe Sales
Tompkins County Trust Company
12/31/1973 Top 5 Films of 1973

The Exorcist,
 When a teenage girl is possessed by a mysterious entity, her mother seeks the help of two priests to save her daughter.
American Graffiti, A couple of high school grads spend one final night cruising the strip with their buddies before they go off to college.
The Sting, In Chicago in September 1936, a young con man seeking revenge for his murdered partner teams up with a master of the big con to win a fortune from a criminal banker.
High Plains Drifter, A gunfighting stranger comes to the small settlement of Lago and is hired to bring the townsfolk together in an attempt to hold off three outlaws who are on their way.
Live and Let Die, 007 is sent to stop a diabolically brilliant heroin magnate armed with a complex organization and a reliable psychic tarot card reader.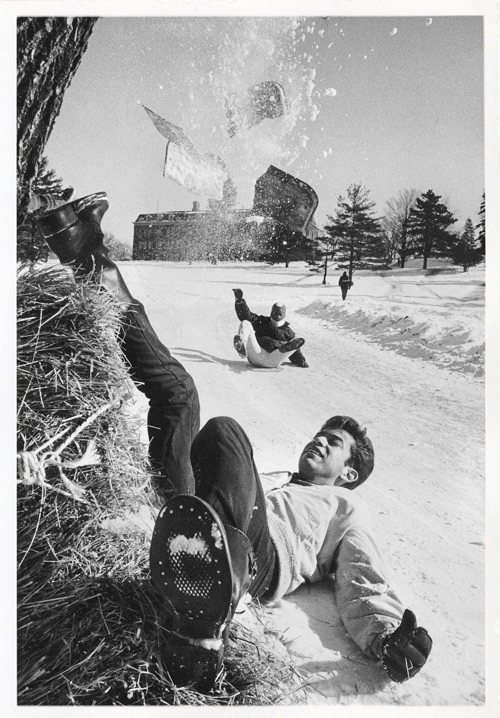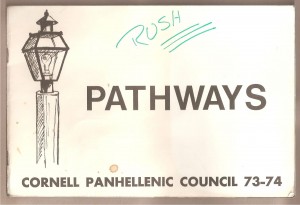 Spring 1974 Rush "Pathways" book with photos and composites introducing each of the sororities on campus to the class of 1977 women.
February 1974 Joni Mitchell Concert
2/4/1974 Patty Hearst Kidnapped, 19 year old college student and granddaughter of William Randolph Hearst kidnapped from her apartment in Berkeley by the Symbionese Liberation Army.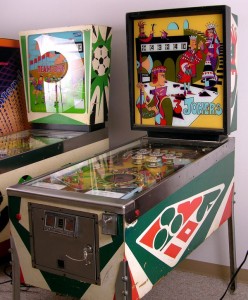 2/13/1974 Pinball – "A lust for pinball 'is sweeping Cornell. In the course of one recent day, an informal survey disclosed more than 390 students enthralled by the buzzers and bouncers and, the "bing-bing-bing" of the pinball machines at the Straight Game Room alone."
– Cornell Daily Sun
2/15/1974 Policy Study by special University Senate Study Group Backs Athletic Parity for Women " The report's recommendations, which are bound to prove controversial, suggest making Cornell's athletic programs equally responsive to the needs and interests of both male and female students. Presently, a great disparity exists between funding and facilities available for men and those available ( for women, especially in the area of intercollegiate sports.)" – Cornell Daily Sun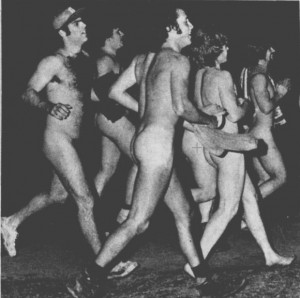 3/8/1974 Students Stage Streaking Spree "Streaking, the latest college craze — not quite as stomach turning as eating live goldfish or cramming 14 people into a phone booth — has hit colleges all over the country this week. Streakers are male, female, slim, fat, pudgy, bold, brazen and enthusiastic, but what they are mainly is naked and fast." – Cornell Daily Sun
Song of the Streaker
Words by: Eric Nusbaum and Randy Johnson
Music by: Stephen Foster (Camptown Races)
Chorus: Gonna streak all night, gonna streak all day,
Some people run with their clothes on,
I like the streaking way.
It started back in '73, dooda, dooda,
Ditch your clothes and streak with me, oh, dooda day. (C)
It started at Cornell's D.U., dooda, dooda,
Ditch your clothes and streak with me, oh, dooda day. (C)
From Donlon Hall one windy night, dooda, dooda
Across the bridge and out of sight, oh, dooda day. (C)
Across the Quad, down to the house, dooda, dooda,
Are you a streaker, or a mouse, oh dooda day. (C)
D.T.D streaked Wednesday night, dooda, dooda. Psi U.
added all their might, oh, dooda day. (C)
Five-twenty-six is the record now, dooda, dooda,
Cornell will break it soon, and how, oh dooda day. (C)
Sigma Chi will pace the pack, dooda, dooda,
Tri Delt's running in the back, oh dooda day. (C)
Now it has spread nationwide, dooda, dooda.
Doff your clothes and bare your hide, oh dooda day. (C)
To streak doesn't take much gear, dooda dooda,
Just wear a grin from ear to ear, oh dooda day. (C)

Safety has started streaking too, oh dooda day. (C)
Corson doesn't know what to do, dooda, dooda,

March '74 Impeachment Fair and Ball

March 1974 Jefferson Starship Concert

March 1974 The Temptations Concert

Savoyards 1974
Spring – The Pirates of Penzance
Fall – Ruddigore

04/18/1974 – Cornell scientists announce they have discovered pieces of the Earth's core
Cornell scientists announce they have discovered pieces of the Earth's core. The "startlingly unique" iron-nickel rocks, called "josephinite" because they were found in Josephine County, Ore., showed evidence of the unusual chemical and physical processes that could have occurred only under the extreme heat and pressure existing near the center of the Earth. The team chemically analyzed  the josephenite using methods developed at Cornell for studying lunar rocks.
from Cornell Chronicle
4/4/1974 Ithaca Commons Plan Approved  "Plans for a $1.35 million pedestrian shopping mall for downtown Ithaca were approved at last night's meeting of the Ithaca Common Council." – Cornell Daily Sun
4/24/1974 University Names New Head  Basketball Coach   "Ben Bluitt, a former assistant coach at University of Detroit, was named head Cornell basketball coach yesterday. He succeeds Tony Coma who took over as Cornell's head coach in 1972 and was fired last February. Bluitt, 49, becomes the first black head coach in Cornell's 110-year athletic history." Cornell Daily Sun
5/1/1974 Electronic Calculator: Friend or Foe? "The age of the hand-sized, battery – powered calculator has arrived with a  jolt. The problems it solves are many, but  it is creating others. Assignments that used to take entire evenings can be done in an hour or two." – Cornell Daily Sun
1974-1975 Sophomore Year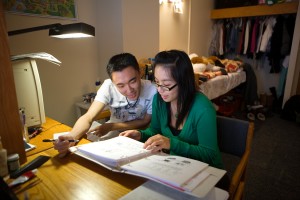 09/07/1974 – Student housing goes co-ed
Student housing goes co-ed. The former men's dormitories on West Campus and the former women's dormitories on North Campus accepted members of the opposite sex, creating the first co-educational student dormitories on campus. Students reacted positively. And, for the first time, sophomore, junior and senior women were allowed to live off campus.
from Cornell Chronicle
Dance major introduced in theater Dept
The Concerts at Cornell that year
Sports Victories 1974-75
Lacrosse 1st in Ivy League
Fencing tied for first in Ivy League
Gymnastics 1st in Ivy League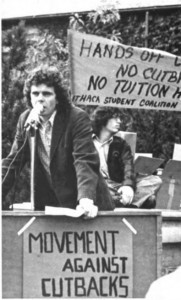 11/1974 Occupy day hall and president corson's office over tuition protest. "Tuition for students in Cornell's endowed colleges will be raised $250 to $3,430. and statutory college tuition will go up $150 to $1,500 for the 1974-75 academic year. Students stage a 31-hour sit-in in the reception room outside the President's office.
Dungeons and Dragons first played on campus by Benjamin Kaufman '77 and friends third floor Sperry Hall.
Concert
ex-Cornellian Harry Chapin
Billy Joel December 1974
March 1975 Jackson Browne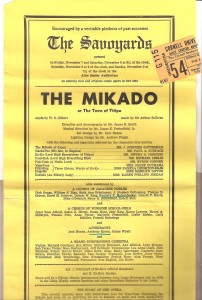 Savoyards 1975
Spring – H.M.S. Pinafore on a double bill with Trial by Jury: a 100th Anniversary Production
Fall – The Mikado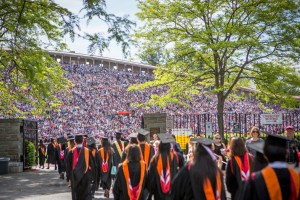 06/02/1975 – Outdoor Commencement
Cornell conducts Commencement outdoors for the first time in three decades. The 107th Commencement was held at Schoellkopf Field for the first time, instead of Barton Hall, the location since the 1940s. Since moving the ceremony outside, it has never been forced back inside by inclement weather (although many suggested that it should have been in 1992).
from Cornell Chronicle

1975 Animal Science Meat Laboratory Disposable hat
for tour of the Meat Lab.
Spring 1975 Dan Berrigan spoke in front of a group of 1000 at Sage Chapel, cleric involved in the anti-war movement.
1975-1976 Junior Year
Fall 1975 Someone cuts down the Straight Stump
November 1975 The Beach Boys Concert
Savoyards 1976
Spring – The Gondoliers
Fall – The Yeomen of the Guard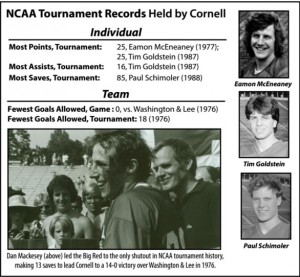 Cornell Lacrosse – Individual NCAA Tournament Records. 25 Most Points in a Tournament by Eamon McEneaney '77. Team NCAA Records. Fewest Goals Allowed, Game: 0 vs Washington & Lee (1976), Fewest Goals Allowed, Tournament: 18 (1976)
 Spring 1976 Swine Flu Vaccines
 May 1976 Kenny Loggins & Jim Messina Concert
1976-1977 Senior Year
William Shatner, one of the stars of the popular TV series Star Trek, lectures at Cornell to a sold out crowd.
10/1976 New Riders of the Purple Sage Concert
11/1976 Seals and Crofts Concert
Savoyards 1977
Spring – Patience
Spring 1977 Native Ithacan Alex Haley's Roots on TV
May 6, 1977  During the 1960's and 1970's, Springfest or Slope Day was not held due the fact that Cornell was protesting the Vietnam War. Springfest or Slope Day was held on May 6, 1977. The band that played was Commander Cody and His Lost Planet Airmen, a country rock band. The famous Grateful Dead Concert was held later that weekend, but not part of Slope Day.
May 8, 1977 Grateful Dead's Concert Barton Hall–  Considered by some deadheads to be the band's best concert ever! 
Listen to an interview on a Cornell University Press podcast here with Peter Conners, author of Cornell '77: the Music, the Myth, and the Magnificence of the Grateful Dead's Concert at Barton Hall.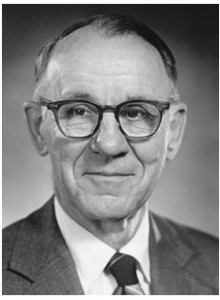 Dale R Corson Steps Down as Cornell's eighth president 1969-1977   Corson led the university through the final years of the Vietnam War and student activism, and through the economic recession of the 1970s. His role was to return the university to stability: to concentration on research, teaching, and scholarship.  – Wikipedia     Read President Corson's address at Commencement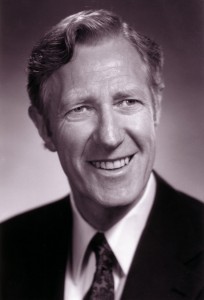 11/10/1977 – Frank H.T. Rhodes is inaugurated as Cornell's ninth president
Frank H.T. Rhodes is inaugurated as Cornell's ninth president. Rhodes is an emeritus professor of geological sciences and has published widely in geology, paleontology, evolution, the history of science and education. During his presidency, diversity among students and faculty increased, research funding more than tripled and a capital campaign raised $1.5 billion. When he retired in 1995, he was the longest-serving Ivy League president. He went on to play a significant role in the development of national science policy under several U.S. presidents.
from Cornell Chronicle